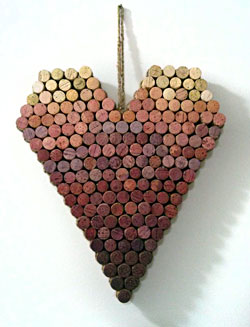 Vancouver crafter, Annie Vandergaag, is passionate about her craft. So it's little wonder that she puts her heart into her work.
Great colour transition from top to bottom in this lovely wall hanging. The corks are bound together with hemp cord and the colour is achieved simply by grouping corks with similar natural wine staining.
Annie says, "So I made five of the cork hearts, and after some practice and reshaping, I'm very happy with the final projects! You can see I've used hemp to line the corks and make them able to hold. Enjoy!"
Annie, thanks for sharing. Cheers!
---