Program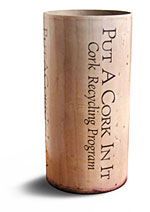 This program is really very simple. When you drop your used wine corks in one of our collection containers, you divert a 100% recyclable material from the solid waste stream and give it a second life as a new product.

We consolidate shipments of your corks and send them to the only cork recycling facility in Canada — the Jelinek Cork Group — one of the oldest, continuously active cork companies in the world. Their cork recycling program was the first of its kind in North America. They are headquartered in Oakville, Ontario. The group specializes in, and works with, cork — from the forest level to the final product.
LEED Certified
Your used wine corks are primarily remanufactured for construction materials such as cork underlay, cork flooring, acoustical cork wall tiles and cork fabrics — all of which qualify for points under the Leadership in Energy and Environmental Design (LEED) Green Rating System.
Please remember, natural corks only  — no plastic stoppers. Thanks!