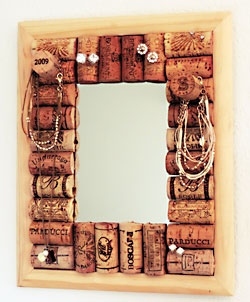 It's difficult to keep up with the product ideas coming from Raelene Rozander's Creative Corkworks.

Tired of pulling your favourite necklace from a tangled knot in your jewellery box? Perhaps you need the mirror with a cork surround that you can hang your necklace from and pin your ear studs into. Need to quickly pick your flash drive from the others in that tech-tangle on your desktop? The drive fitted into a hollowed out wine cork is easy to spot.
Raelene's products can be found in a few wineries and a campground in Summerland BC; the Penticton Wine & Tourism Center; and the Penticton Art Gallery.