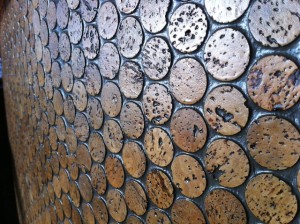 The Boathouse Restaurant at Kits Beach has a bar that is faced with cork 'tile' discs. This is a beautiful example of the exact appearance of the process we are currently in search of shearing equipment for.
These natural cork discs are applied to a mesh backing sheet similar to ceramic tiles that are supplied by the square foot. The sheet of cork discs is bonded with tile adhesive and grouted, just as you would any tile floor or counter back splash surface.
Great looking and durable. Check it out.