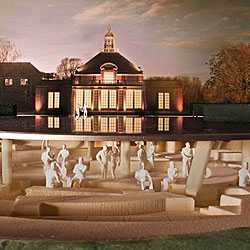 The plans for the Serpentine Gallery's twelfth summer pavilion designed by Herzog & de Meuron and Ai Weiwei have been revealed.
The team have performed an archaeological dig, five-meters deep, and used the shapes of items found in the earth to dictate the form of the hollow build. The complex ground shape is to be cut with cork, because of its natural and versatile qualities.
A floating platform roof, which will be raised about waist-high above the ground will collect rain water to reflect the skies. It can also be drained "like a bath tub" so that dance performances to take place on the roof.