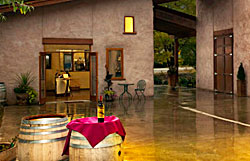 It should be no surprise that Orofino Vineyards in Cawston, BC was eager to participate in our wine cork recycling program. Founders, John and Virginia Weber are no new-comers to 'walking the talk'. Visit their vineyards and you may spot evidence of their commitment to sustainability such as their rooftop solar PV and solar water-heating panels atop their straw bale winery building. The 21-inch thick walls provide an R-60 insulation rating — 5 times higher than code requirements.
Aside from their commitment to energy efficiency and sustainable practices, they also make some damn fine wines. You owe it to yourself to sample a few. Details are available on their website: orofinovineyards.com
Welcome aboard Put A Cork In It!