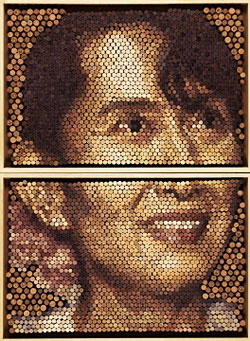 Wine cork artist, Conrad Engelhardt, is one of 95 finalists in The Threadneedle Prize for painting & sculpture. The Prize provides experienced and emerging artists with the opportunity to showcase their work… and at £30,000, it is one of the largest art prizes in the UK.
Engelhardt's submission is a diptych portrait of Nobel laureate Aung San Suu Kyi. The 'mosaic' cork tiles colour palette is the natural wine stain colours of the wine they bottled.
We featured Conrad Engelhardt's work in our earlier post: https://putacorkinit.ca/2013/05/pointillism/ Conrad's interest in cork is apparently matched by his interest in great women.
See more of Engelhardt's work at http://corkbycork.com/ and read more about The Treadneedle Prize.